Are you feeling frustrated with not getting the engagement on your posts that you're working so hard to make? Today, we're giving you 3 fantastic post ideas with Call To Actions that will start conversations and open up opportunities for sales!
A Call to Action, or CTA, is the specific action that you want someone to take after reading or watching a post or reel. When people interact with your account – Instagram's algorithm helps your account get seen more by not only that person that interacted, but also helps you get seen by more people.
Whether you're running an online store, a service business or just starting to build your brand, these ideas will help you post with more purpose and get your audience involved! This is Part 2 or our instagram engagement series, so if you haven't seen Part 1, you can check our blog post out here or our youtube video here!
CTA 1 – Save For Later
First we'll talk about making a save-able post. And this can be useful in any business no matter what you sell – the perfect call to action for any kind of list, process, or resource post is to tell your audience to save the post.
The key to this CTA is providing content your audience would want to revisit.
Here's an example – you are a cook who wants to showcase a variety of fall recipes in a carousel post that starts with, "Fall Recipe Collection!" The slides in your carousel could include seasonal produce and spices to use, a couple simple fall recipes from soups to baked goods, and even a slide on wine pairing if that's what you're into! The last slide on the carousel would ask the viewer to "Save this post for the next time you're craving comfort!". You can also add the CTA to the description!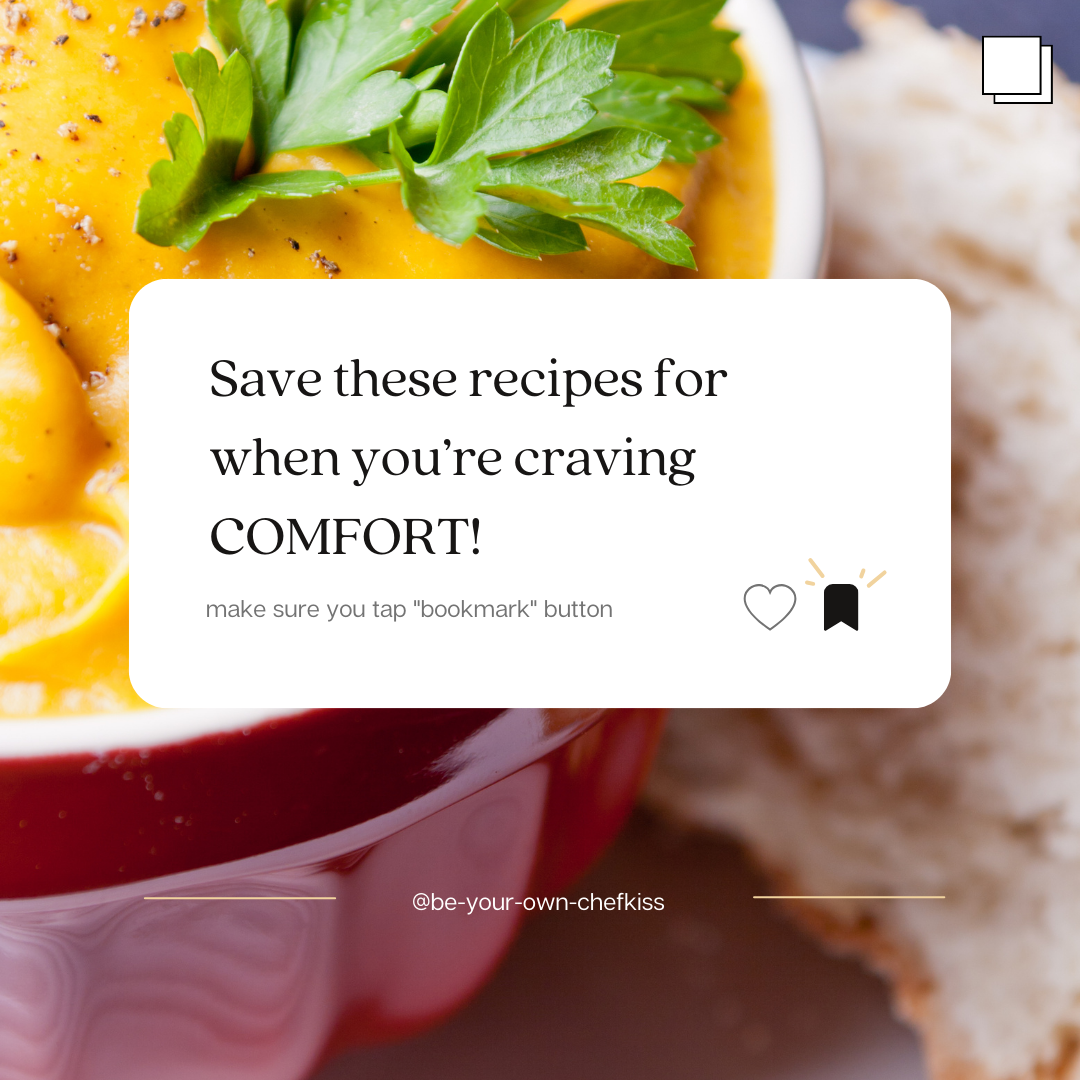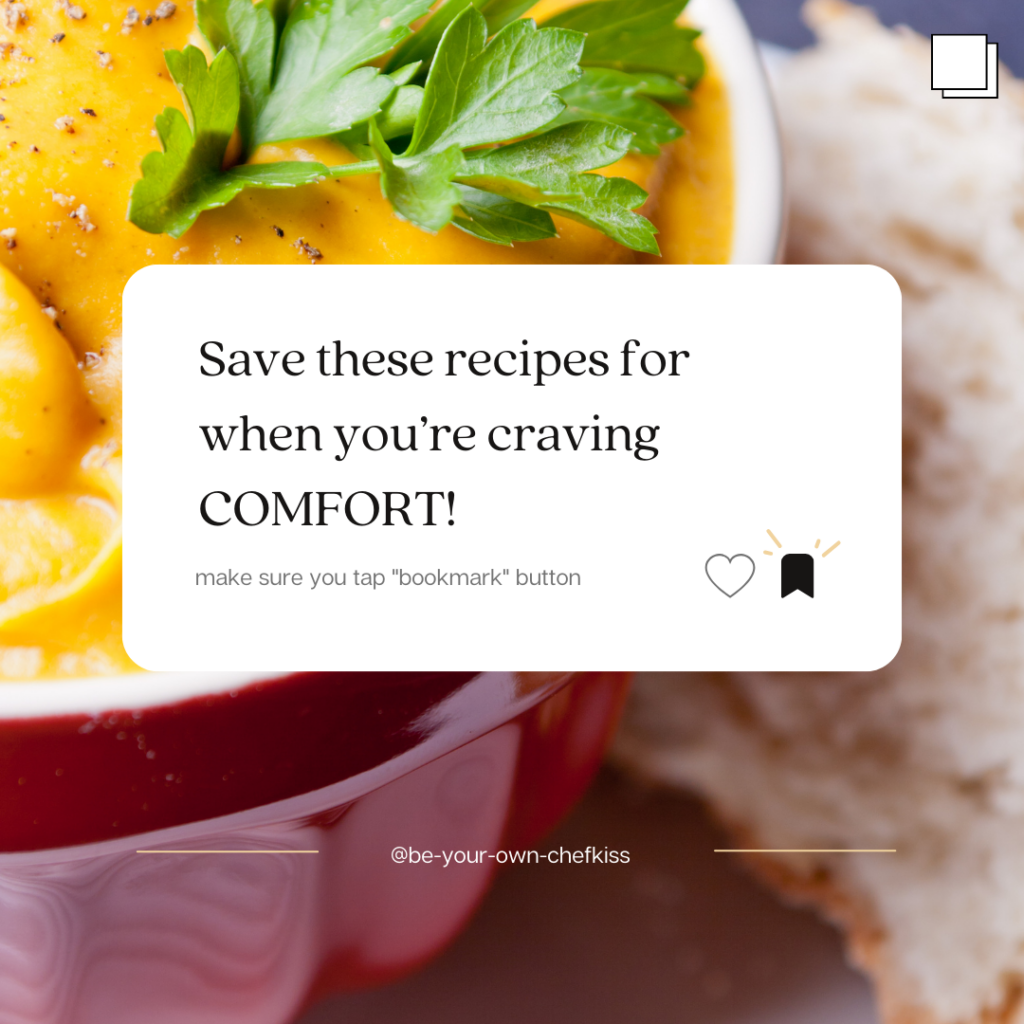 Again, this is a great CTA to use when you're providing a resource that they will want to come back to reference later.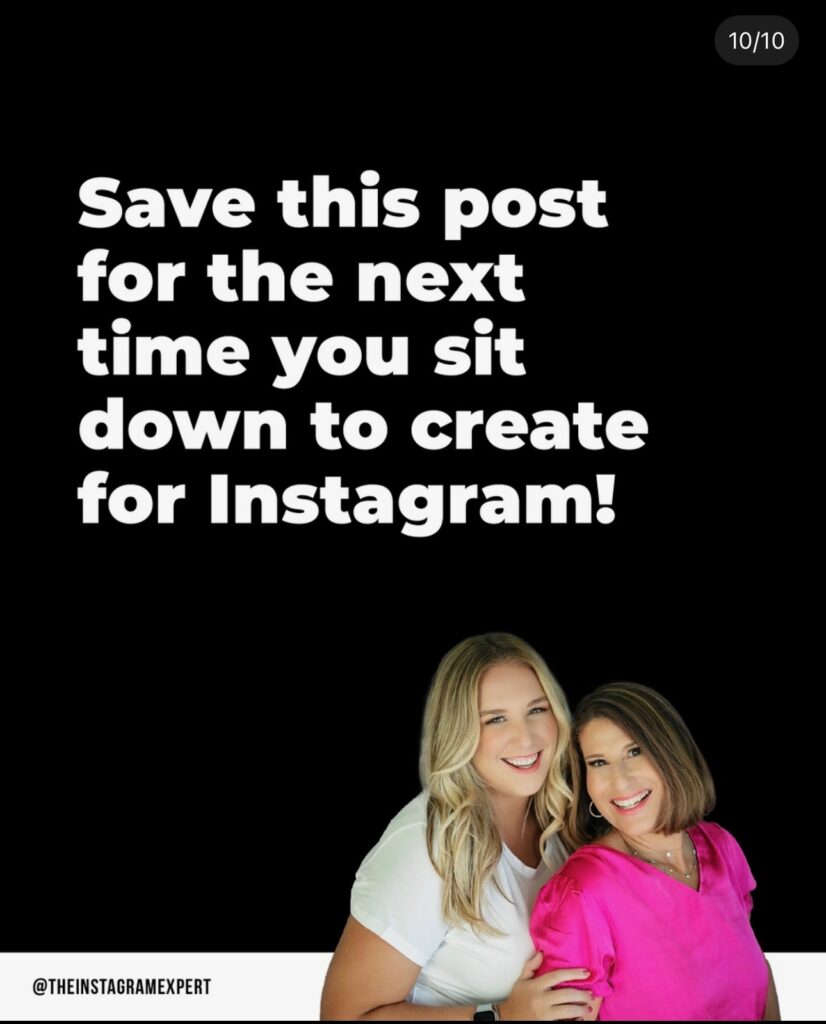 CTA 2 – Give This Post a Thumbs Up!
Next up, we have a easy CTA to boost engagement – a "Thumbs Up".
It's simple, yet very effective. Create a post. Then, ask your audience to give it a thumbs up if they found it helpful or if they connected with it.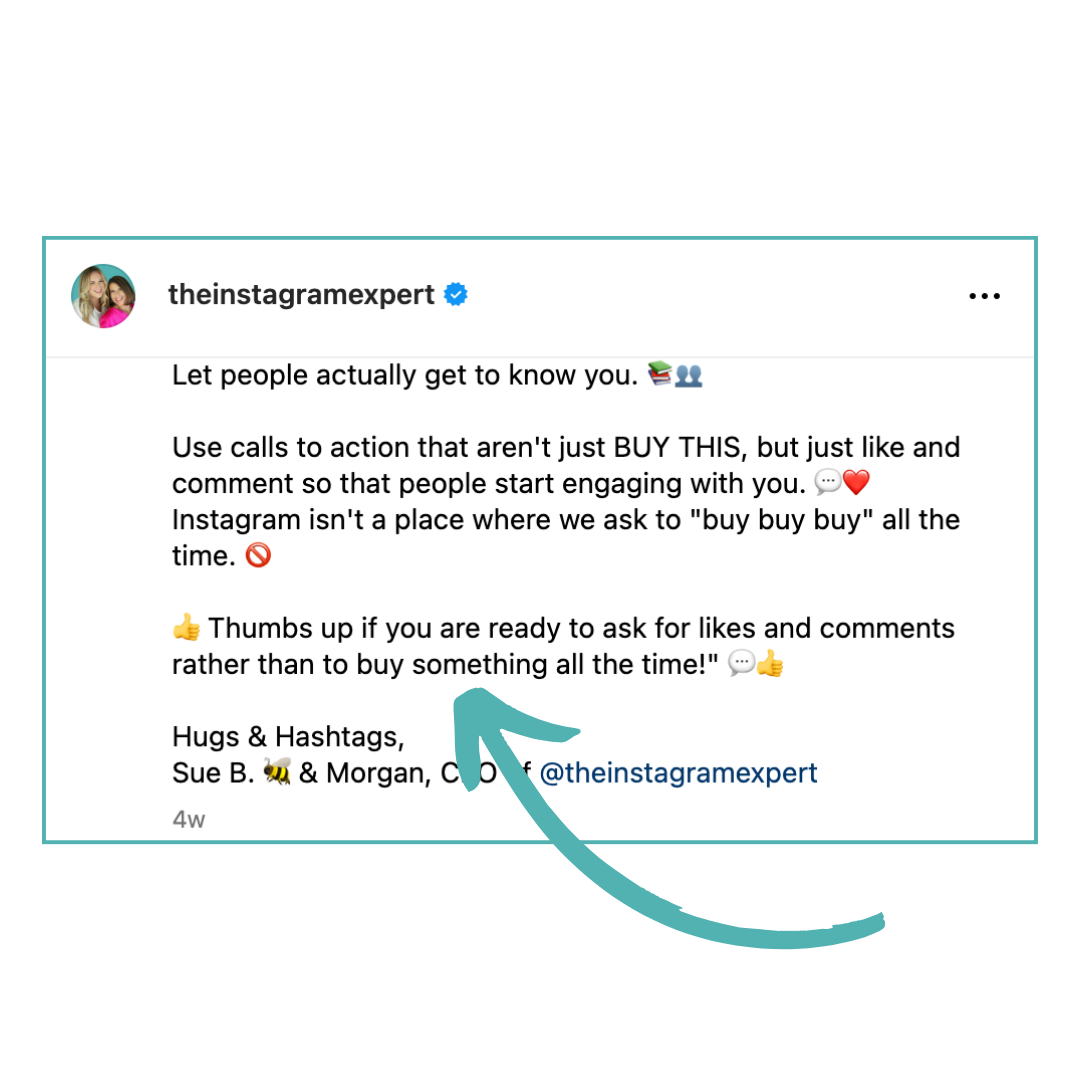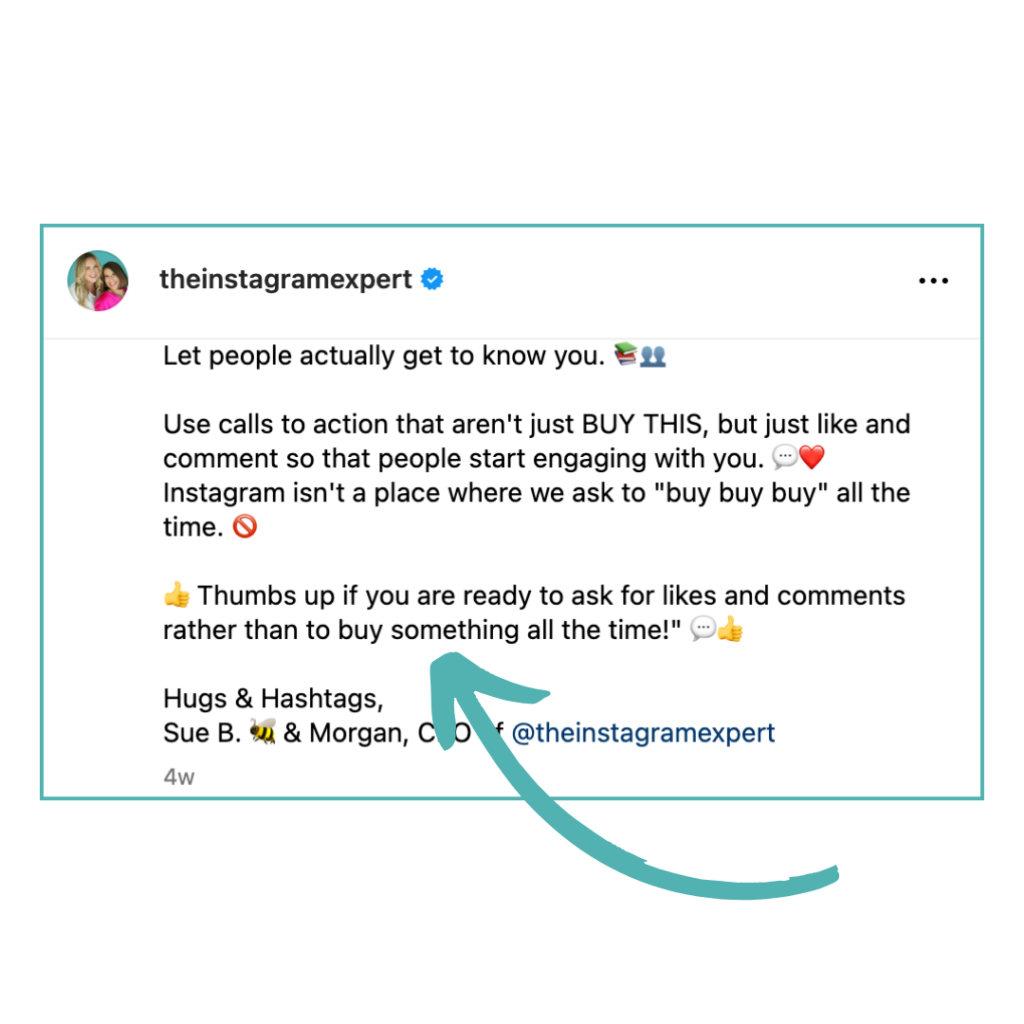 We love this one because engagement doesn't always have to be complicated. This post encourages your followers to interact with just a few clicks. This is a simple, valuable interaction that shows Instagram's algorithm that people are enjoying and interacting with your post.
CTA 3 – DM Offer
For our third post idea, let's talk about a simple interactive comment. This one can truly open doors to deeper connections and potential sales.
So you'll create an appealing offer, whether it's a discount, a freebie, or exclusive access to content. Then, ask your audience to comment a specific word below the post to have the offer delivered to their Direct Message.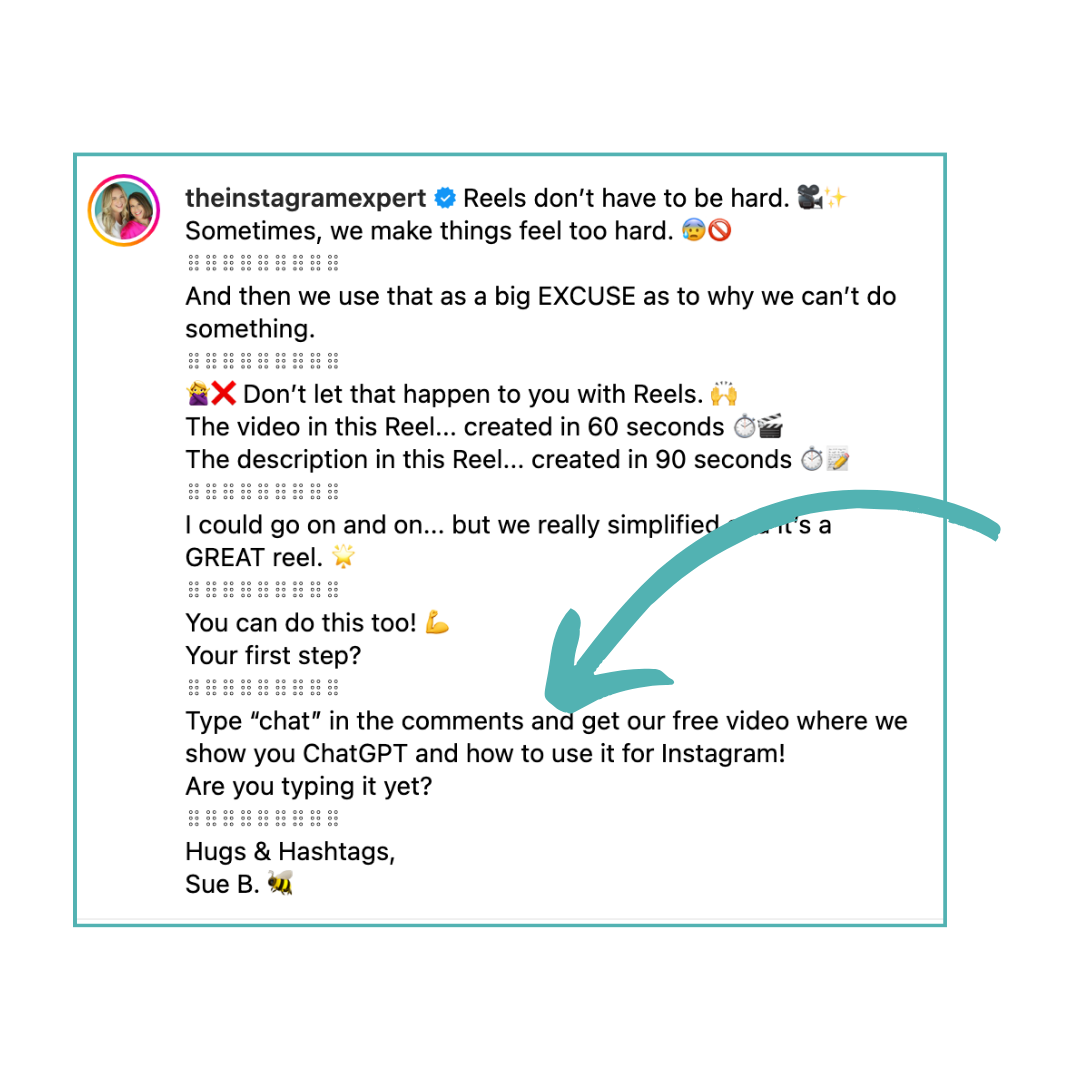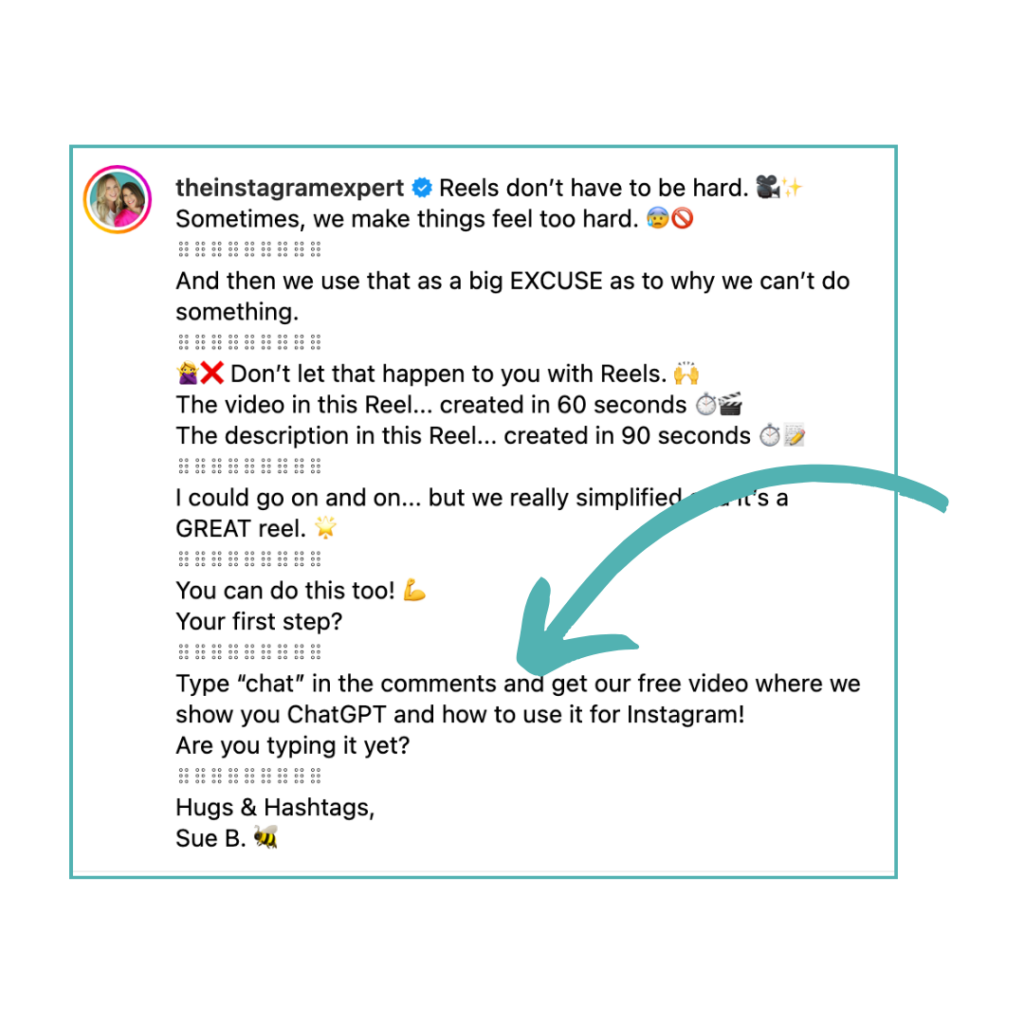 So for example, you are a photographer who does workshops. Share that in your Reel or post description and then include something like "If you want the inside scoop and early access to this workshop, comment "lightroom" on this post and I'll DM it all to you!"
There are SUPER cost effective automation tools for this, like Manychat, which we use. Or if you have a smaller audience, we recommend that you respond to these manually, which allows you to personalize your DM message.
This strategy not only gets your audience engaging but also opens up the DM conversations with potential clients. You're inviting them into a more personal conversation, which can lead to then turning into a customer!
Next Steps
Now you have 3 calls to action you can use for your next Reels. Now if you're eager to learn more about posting Reels on Instagram, and want some hacks you should download our free guide!
The guide is called: "5 Quick and Easy Hacks For More Professional and Engaging Reels" It's free, and a great starting point if you want to optimize your posts and get the absolute most out of your effort. You can Download our free guide here!