Is your go-to Instagram call to action always "Check out my website"? If you find yourself constantly saying, "Head to the link in my bio," then you will want to keep watching, because we have some other options for you if you want to grow your business on Instagram.

So, let's dive into why sending people straight to your website might not be the best initial move.
What's in this blog post ⤵️

Treat Instagram Introductions Like Real Life
Imagine you are a yoga instructor. After a class, you see that one of your students has the same yoga mat. You think, "I have cleaning spray and a special drying cloth that works perfect for someone using that mat. Instead of running up and shouting, "Check out my shop!" You'd say something like, "wow, you have great taste! It was a good class today, right?" to start the conversation. Well… It's the same on Instagram.
Think of Instagram as a space for forming connections first. It's like meeting someone multiple times, finding common connections, while consistently keeping them aware of your shop or business.
The key is building relationships. Just like how you wouldn't push your shop on someone you've just met, the same applies on Instagram. Followers, especially new ones, are more likely to buy from you once they feel a connection. And when they recognize you.
Second Interaction
Picture this: you see the yoga student again, the one with the same mat as you. This time, you smile and walk over, and chat. Then, you after some rapport as been built, you'll suggest that what you sell might be of interest based on the information you got from connecting and chatting.
That's the essence. Building familiarity matters. Someone recognizing you and getting to know you is more likely to take action with you. It may need a few times for them to have that trust. So when someone comments on your post, and instead of immediately asking them to buy from you – ask them a question about themselves! Over time, you're forming a connection, making them more open to exploring what you offer.
What CTA's Should I Be Using Then?
Okay, I bet you're now wondering, what should be your call to action at the end of a post. If you're not asking people to check out your website, what should you be telling your audience to do more regularly?!
To start, try asking for engagement in different ways, like for your audience to comment an emoji on your post, or put up a poll for your viewers to vote, and to ask them genuine questions to get to know them better. That opens up the doors for further communication and connection!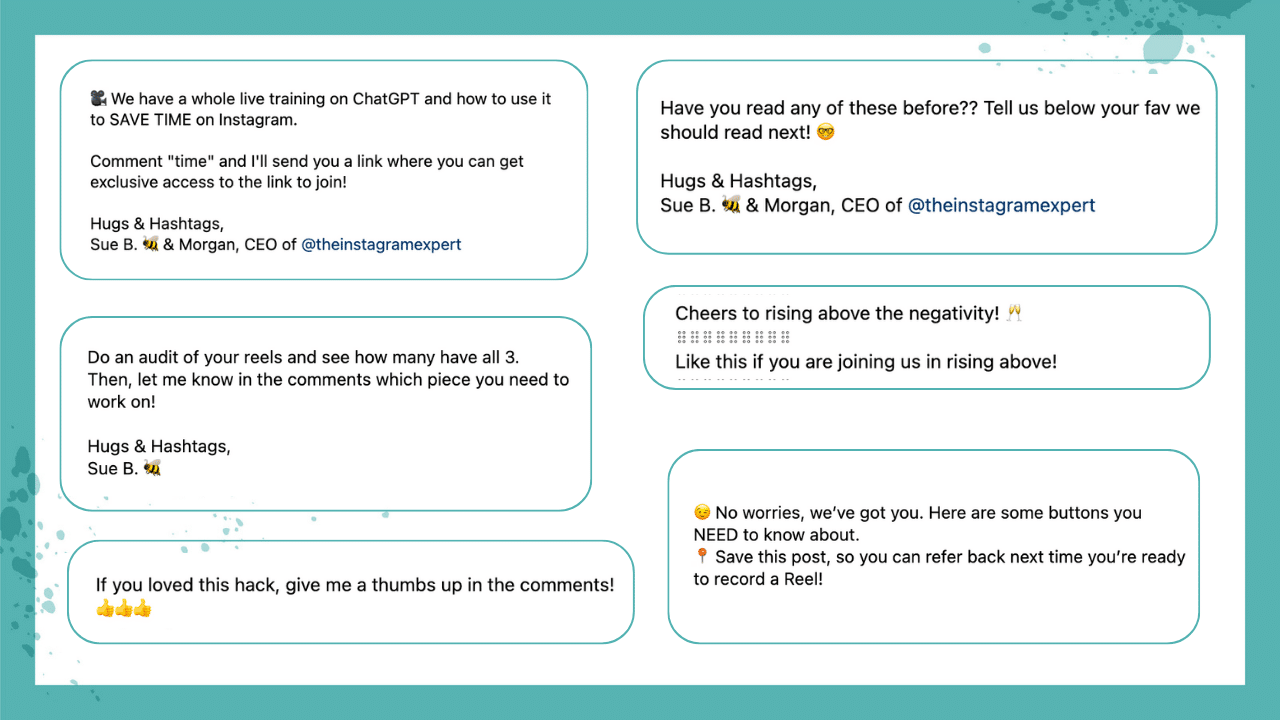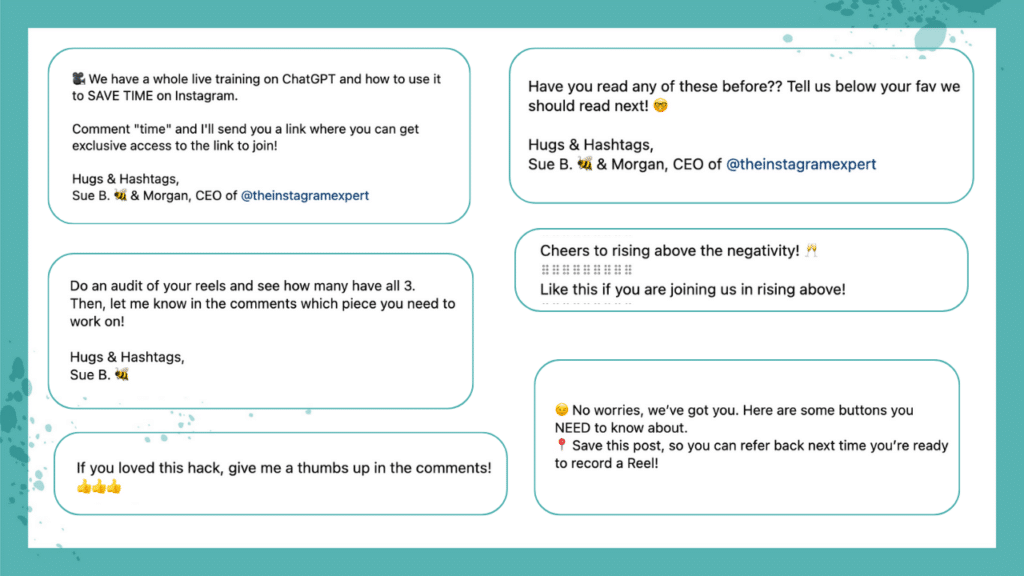 There are so many ways to invite people in. And you could also lead them to a free resource, something that will provide value! That is always a good way for someone to get to know your business.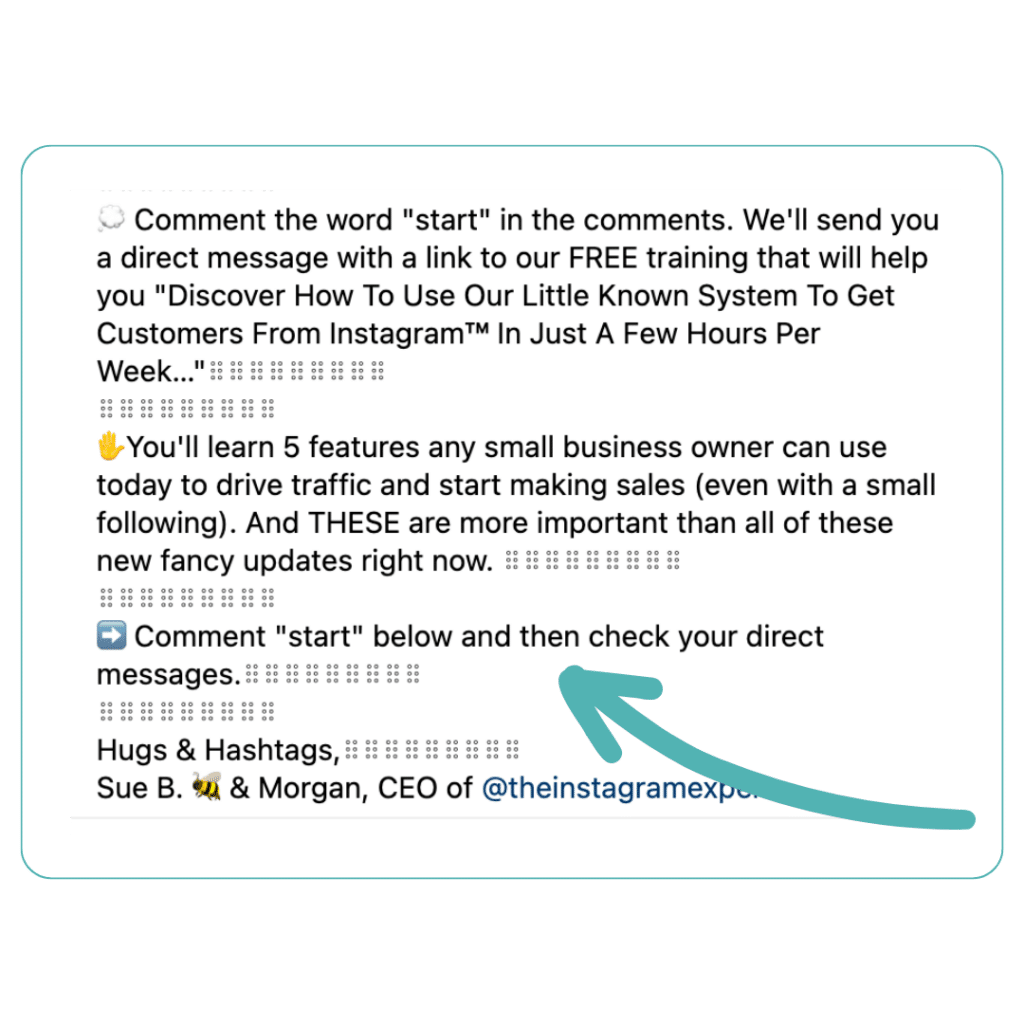 Speaking of, if you're interested in learning more about finding buyers and getting more sales on Instagram – we have a FREE training that I know you will love. During the training we help you leverage Instagram as a marketing tool. You can sign up using THIS LINK – it's called: "The 3-Step Customer Attraction Blueprint."
See what we did there? 🙂
MORE Free Resources & Conclusion
And one more good resource for you – we have another blog post ALL about post ideas to encourage more engagement on Instagram, you can read it HERE. That's also a really great place to start when trying to come up with CTAs that encourage your audience to engage with your posts!
Remember, it's not about rushing the sale. It's about creating genuine connections, staying memorable and top of mind so that when someone needs or wants what you sell it could lead to more loyal customers and who can turn into thrilled community members.